DON AMADO MEZCAL
In the highlands of southern Mexico, the renowned Arellanes family has been crafting one of the region's most celebrated mezcals since the late 1700s.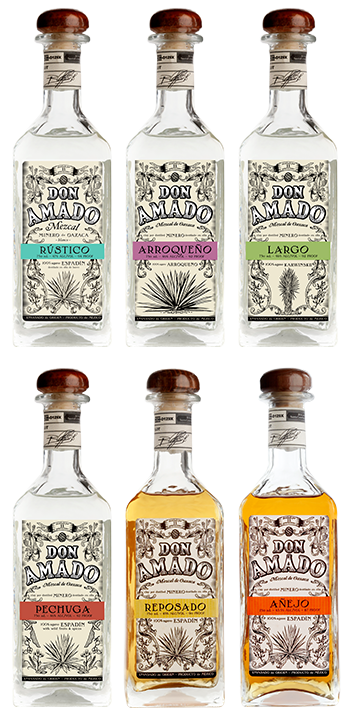 Eleven generations of continual mezcal distillation with a legendary commitment to craftsmanship and experimentation have culminated in a spirit that is simultaneously complex and approachable. Don Amado is made from earthen-roasted agave hearts which are, after crushing, fermented together with their piña fibers for a rich agave character. The mash is then double-distilled in small traditional ceramic clay pots. Aged varieties are matured in American oak casks previously used for barreling Pedro Domecq brandy.
RÚSTICO
The influence of the minero clay still is quite prevalent on the nose with aromatics leaning towards ash, crushed walnuts, roasted corn, and savory spices. A bright, citrusy espadin agave palate is well balanced against notes of caramel, butterscotch and fresh herbs.
LARGO
Soft smoke with candied notes and a creamy mouthfeel layer fruit and a subtle spice on a palette of rich, cooked agave… reminiscent of the high desert just after a heavy rainfall, bright and clean.
ARROQUEÑO
Rustic and refined, revealing bright floral aromatics with notes of caramelized agave, leather and soft smoke that lend structure to ripe, cooked yam fruit flavors. A supple mouthfeel delivers quince, persimmon, lemon verbena and kaffir, juxtaposed with layered chocolate, espresso and savory spice with balanced minerality and savory roast characteristics.
PECHUGA
A treasure of complexity that exhibits rich, bright fruit notes, roasted nuts, dark baking spice, wafting hints of clean smoke, fresh cinnamon and stone fruits. Mature agave flavors are woven throughout and yet never overwhelm, maintaining symmetry, balance and depth, on through to a delicate finish of broad, exotic flavors and lingering tropical nuance in this uncommonly vegan pechuga.
REPOSADO
Its aromas and tastes are very familiar Mexican flavors: roasted corn slathered in butter, hints of vanilla and cinnamon, tropical fruit like dragonfruit, and dried chilies with a moderate amount of smoke. The flavors of barrel-aging contribute spicier and more vanilla-driven notes.
AÑEJO
This is truly a regal take on what many consider to be a rustic product. There are savory, mesquite aromas that hint at a backyard barbecue and toasted cayenne pepper, but these flavors flow deftly between layers of succulent tones of baked stonefruit from the strong brandy barrel influence. The palate continues in similar form with with notes of grilled pineapple and finish with a bright saline minerality for a long, refreshing coda. A mezcal that shows amazing complexity beyond smoke and a great example how barrel flavors can compliment rather than mask agave's wild charms.
For more information, including Distributors and Retailers, please visit the Haas Brothers website.
---
MINA REAL MEZCAL

Mina Real an ecologically-sustainable mezcal made with agave slowly cooked in a brick kiln without the consumption of firewood. Our steaming method highlights the plants' bright floral bouquet without burning an industry average of 3.5 lbs of firewood per liter produced. Utilizing a combination of both modern and historical technique, the agave honeys for Mina Real are fermented intact with their crushed agave piña fibers, followed by a double distillation in pot stills for pronounced earthiness and character.
For more information, including Distributors and Retailers, please visit the Haas Brothers website.